India International Convention & Exhibition Centre (IICC) Limited is being developed to achieve the vision to create a state of the art and world class centre to promote MICE activities in India which will help in attracting and promoting business and industry and act as a catalyst for growth of industrial development in the country.
The project is planned over an area of 221 acres in Sector 25 Dwarka, New Delhi. It is connected through Dwarka Expressway on east and Urban Extension Road II on North and is about 11 Kms from IGI International Airport. The Airport Express line is being extended from sec 21 Dwarka in to the heart of the complex through underground metro. The project has been planned at an estimated cost of over 25,000Crores ( USD 4 Billion) . Department for Promotion of Industry and internal Trade (DPIIT) has set up a 100% Government owed company – India International Convention & Exhibition Centre (IICC) Limited to implement the project.
The facilities provided at the centre will be at par with the best in the world in terms of size and quality, offering facilities for meetings, conferences, exhibitions, trade shows and International and National events. The project is envisioned to be on a scale of a Central Business District with associate retail, commercial and hospitality sectors. It would rank among the top global venues and biggest in India when fully developed. In addition to giving boost to business and industry it is also expected to generate over 5 lakh direct and indirect employment opportunities.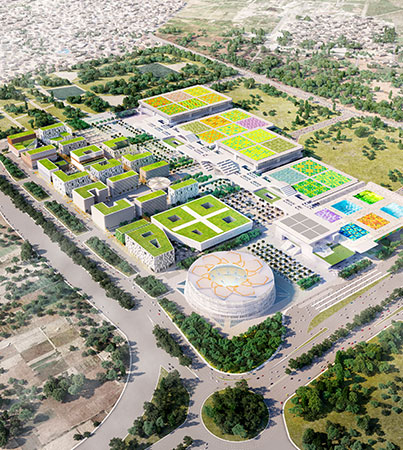 IICC will be an integrated complex with facilities like Exhibition Halls with connecting Foyer, Convention Centre comprising Plenary Hall, Ball Room and Meeting Rooms, Open Exhibition area, mixed use commercial development like Hotels, Retail services, Offices and a multi-purpose Arena.
The facilities are designed with sustainable approaches in planning and design, efficient land use, eco-friendly building design, transportation, alternative energy production, energy conservation, water resource management, solid waste management to create cost-effective and measurable savings for the project. The construction will be in line with green building principles and Indian Green Building Council (IGBC) Platinum rating standards.
Over 40% of the area is planned to be developed as open/green area with a total built up area of 1.07 million square metres (sqm) comprising of Convention Centre of capacity 11,000 persons, 5 Exhibition Halls ranging from 29,000sqm to 83,0000sqm each, a Grand Foyer connecting these five exhibitions, Hotels & serviced apartments (3500 room keys), Office space, Retail space and multi-purpose Arena of capacity 20,000 persons with retractable roof.
The project will be developed in two Phases. Phase-I is planned to be commissioned by 2021 with Convention Centre and Two Exhibition Halls with adjoining Foyer and related infrastructure facility. Phase-II is planned to be completed by 2025 with construction of three more Exhibition halls, underground Metro connectivity including station within complex, Hotels, Retail, Office space and multipurpose Arena. The commissioning of underground Metro being constructed by Delhi Metro Rail Corporation (DMRC) shall take place in 2022. The complex shall be surrounded by neighbourhood development consisting of diplomatic enclave and large golf course planned under the Delhi master plan.
IICC is expected to host more than 100 International and National events every year.